By Benjamin Isip / April 22, 2013
[It's important to know what to do after an emergency and we hope that these communication tips help]

Extraordinary situations can happen anytime. Living in Florida, we know that severe storms, lightning, and tornadoes can happen at any time and knock out power while causing severe damage to a community just as easily as a hurricane can. In the event of a man-made emergency, you may have even less warning, so a plan is important to have in place ahead of time. Time and time again, we've seen in the news the stories of families trying desperately to contact loved ones, only to be thankfully reunited later. So, what can you do to now to make that communication easier later?
Does your community have a disaster plan? Communicate it on a regular basis and make sure that new neighbors are informed about it too. Just as importantly, each individual needs to have a plan for how they will get in touch with friends and family both locally and long-distance. There are many resources that you can help distribute through www.ready.gov or www.citizencorps.gov. You and your family may not be in the same place in a disaster, so make sure that everyone knows who they should contact in case of emergency. Younger family members can be given contact cards to carry around in backpacks, and everyone should set up contacts in their phones ahead of time. Speaking of younger family members, most schools have an emergency communication plan. Find out what it is, especially if you need to give them your phone number or email address to receive their communication. Likewise, working adults should check with their employer for the plans for their workplace. If everyone is expected to move into an alternate location when you lose power or phones, your family and friends should know about it.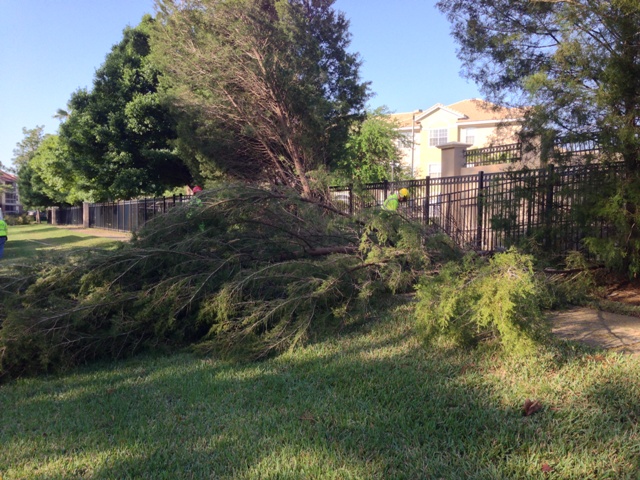 After a storm, downed trees may cutoff even regular phone lines.
Often, we have seen phone services become overloaded during a disaster. Either due to being overwhelmed with calls or physical damage to cell towers or other infrastructure, you may not be able to call your family members to let them know that you are okay and set up a place to meet. AT&T recommends using text messages rather than voice calls to avoid network congestion. Verizon recommends using mobile apps like Facebook or Twitter to get the word out to friends and family about where you are and that you are doing well. If your mobile device can get on the internet but not make calls, the Red Cross has a website set up where people can search for loved ones or register that they are safe at safeandwell.communityos.org. FEMA recommends designating an out-of-town contact for the whole family to check in with and coordinate separated family members.
Whatever your plan is, make sure that everyone knows it!

Go back to the Community Association Operations Blog